We are challenging our patients to donate our Collective Staff Body Weight in Food Bank items.
All food items are appreciated.
Food Bank has a current need for: 
Diapers – sizes 5 and 6,  Pull-ups 4T-5T (for both genders), Baby diaper wipes, Enfamil A+ Infant formula
Peanut-free school snacks (nut free granola bars, fruit cups, pudding cups, etc.)
Gluten free Items
We will accept food donations September 1- October 9th.
All food bank donations of 5 lbs are given a ballot entered into a draw for Prizes donated form local sponsors.
We thank the generosity of Mr. Pets, Innovations Music, Sobey's, Swiss Chalet and Daphne's Healing Hands.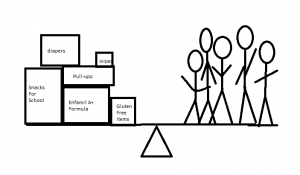 Guess the Collective Weight of the Staff
A guess is five dollars, all funds go to the St. Albert Food Bank.
Prizes for those nearest to the correct weight are:
a One Hour Massage with Jadyn Waldner,
or a $50 gift certificate to a local St. Albert Eatery for dine-in or take-out.